EXCLUSIVE!! COOK CHEATS. JOHNS OUTRAGED. PANCAKE SHORTAGE NO MORE. PRODUCTION HALTED ON MAVID SYRUP. AUNT JEMIMA IN TEARS. LAST SHIP HAS SAILED FOR LITTLE SAILORS...

Camp Jemima, USA
-- American Idol season 7 winner, David Cook has recently disclosed some damning information regarding his affections for another round and sometimes square, fluffy food. Last week in an
AINow.org
interview with
voldemort
, Cook revealed in the lightning round that he preferred waffles over pancakes. This news spread across the interwebs and micro-blogging sites with reactions running into a blender of flour and sugar, why the sudden flip-flop-flapjack?
(
CLICK HERE FOR A MORSEL OF LIES...
Collapse
)
Current Mood:

shocked

Current Music:

little lies ~ david cook
In celebration of Michael Johns' birthday on October 20th, we will be rallying up the MJ fans to help trend a topic for his birthday, as a little birthday surprise.
Make sure this is posted on Twitter to help get the word out before the 20th of October. Be sure to post it EXACTLY like the text below:
**OPERATION TWITTER HASHTAG: TREND THIS OCTOBER 20TH FOR MICHAEL JOHNS' BIRTHDAY!! (7 PM ET/6 CT/5 MT/4 PT)
http://is.gd/4g7bu
**
Please see to it that this gets re-tweeted to as many MJ fans as possible.
The OFFICIAL times are:
October 20th
7pm Eastern, 6 Central, 5 Mountain, 4 Pacific
October 21st
10am Sydney, 7am Singapore, 6am Jakarta
Please be sure to follow the poster's rules and guidelines for posting the hashtag. Any questions, direct them at @mjohnsonline, @cakelulu or @westlifebunny over at Twitter.
ALSO. This must be kept on the downlow and not be shared with Michael Johns nor his wife Stacey or management.
cross-posted to:
michaeljohnsfan
americanidol
supportmichaelj
the_flyboys
mavidpancakes
cohnstro
marlavid
ai7tour
Current Mood:

drunk

Current Music:

another john doe ~ thenewno2
What is this Great Pancake you ask so often in your mere existence? Well, according to legend the Great Pancake goes to all the kitchens (Hooters does not count as the Great Pancake often confuses those round circular discs with other round circular discs at Hooters) around the world and the one who's got the best shortstack, in his opinion will be the only one to see him. So far, no one has seen the Great Pancake because they've all made really bad pancakes except for Mavid. Both of them, as an entity made the best pancakes according to the Great Pancake and he's shown himself to them - in a hetero way. In fact, he was so pleased with their pancake culinary skills that he decided to make them his protectors - his bodyguards. His saviours! As a result, he now looks forward to having pancakes made like them.
There are many ways to make a Mavid shaped pancake. One way is to actually follow the recipe and really make them, but the problem is that they are so tasty looking that no one has ever left them untouched on the table and as a result there is no evidence to show such a Mavid shaped pancake. So in this community, we showcase Pancakes Shaped Like Mavid in all sorts of forms:

GENERAL RULES

- recipes with a photo play-by-play
- fan-fiction (let's keep it on a PG-13 level, folks. Silly/Stupid funny with innuendo is always welcomed)
- manipulations
- animated gifs
- banners/siggies/icons
- songs inspired by Mavid and devoted to pancakes and The Great Pancake
- discussions on seeing The Great Pancake & his saviours (your fan encounters)
- posters to remind Mavid of the Great Pancake's arrival once again

So join this community (all posts are friends only, obviously except for this one!) and show your support for all things pancakey and that includes the following, waffles, crepes, french toast, Aunt Jemima, Mrs. Buttersworth, maple syrup, and the hard working Canadians who make the best damn maple syrup in the world. Oh and Mavid, of course.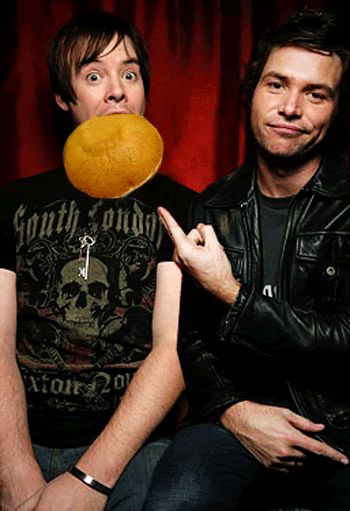 And to get you inspired, check out this video at YouTube. It's a great tune and I wish it was nominated for a Grammy.

Have fun and please. Drink syrup responsibly.

xoxo
Tania (
westlifefan)
Welcome one and all to the greatest and most delicious and first...and ONLY Mavid and Pancakes community! This is a very special community and in honour of The Great Pancake that comes every February 5th, Pancake Appreciation Day! That is when all the little boys and girls gather round their kitchens to make the best damn pancakes known to...the Great Pancake. And his publicist, Bosco.
Current Mood:

curious